Jazz…Old-school, yet always fresh. The genre has a rich history dating back to the early 1900s, when African American musicians began developing their own style of music that blended elements of European and African music. Jazz has since evolved into a wide variety of styles, from the swinging sounds of the Big Band era to the more complex sounds of bebop to the laid-back grooves of smooth jazz.
No matter what style of jazz you're playing, you'll need a great guitar amp to get the most out of your instrument. But with so many different types and models of amps on the market, it can be tough to know where to start.
Playing Jazz using electric guitar amps:
In the 1930s, jazz guitarists began playing their instruments through amplification. This was mostly due to the fact that many of the new electric guitars were designed for Hawaiian music, which required a louder sound to be heard over the noise of the audience and dancers.
As jazz guitarists started using amps, they began to experiment with different ways to get the best sound out of their instruments. Many different techniques were developed, such as using the amp's EQ to shape the tone, using effects pedals to create different sounds, and even using multiple amps at once.
Guitar amp features for Jazz music:
EQ: Tune your tone with the amp's EQ controls. Many amps have simple bass and treble controls, while some have more complex EQ sections with multiple frequencies that you can adjust. For Jazz, you'll want to focus on the mid-range frequencies to get a warm, rich sound.
Effects: Reverb and delay are two essential effects for jazz guitarists. Reverb will give your sound a sense of space, while delay can be used to create echo effects or to thicken up your sound. For Jazz music, tune the reverb to a medium-length setting and use a moderate amount of delay.
Multiple amps: Using multiple amps is a great way to get a wider range of sounds out of your guitar. For Jazz, you might want to try using a clean amp for the verses and a distorted amp for the chorus. Or, you could use one amp for the rhythm guitar parts and another for the lead solo.
Factors to consider when choosing the best guitar amp for Jazz:
Output power: The output power of an amp is measured in watts. The higher the wattage, the louder the amp will be. If you're playing small venues or recording at home, a lower-wattage amp will be fine. But if you're playing larger venues or need more volume for practice, you'll want an amp with more power.
Tube or solid state: Tube amps are known for their warm, natural sound. They tend to be more expensive than solid state amps, but many guitarists feel that they're worth the extra cost. Solid state amps are more reliable and require less maintenance than tube amps, but they don't have the same range of tones.
Speaker size: The size of the speaker is another important factor to consider. Smaller speakers are better for recording and practicing, while larger speakers are better for live performances.
Channels: Most amps have two channels: a clean channel and a distorted channel. Some amps also have a third channel, which is usually called the "crunch" or "odyssey" channel. This channel is somewhere in between the clean and distorted channels, and it's perfect for Jazz music.
Effects loops: An effects loop is a feature that allows you to connect your effects pedals to the amp and place them after the preamp stage. This is important because it allows you to get a better sound out of your pedals. Many amps have an effects loop, but not all of them do.
Headphone jack: A headphone jack is a handy feature that allows you to practice without disturbing others. It's also useful for recording, since you can use headphones instead of speakers.
The popularity of Guitar Amps for Jazz Music:
In a survey done by Jazz Guitar Online, Fender was found to be a favorite and most-voted brand for Jazz. The chart below shows the popularity ranking for 15+ brands of guitar amps for jazz (Credit: JGO)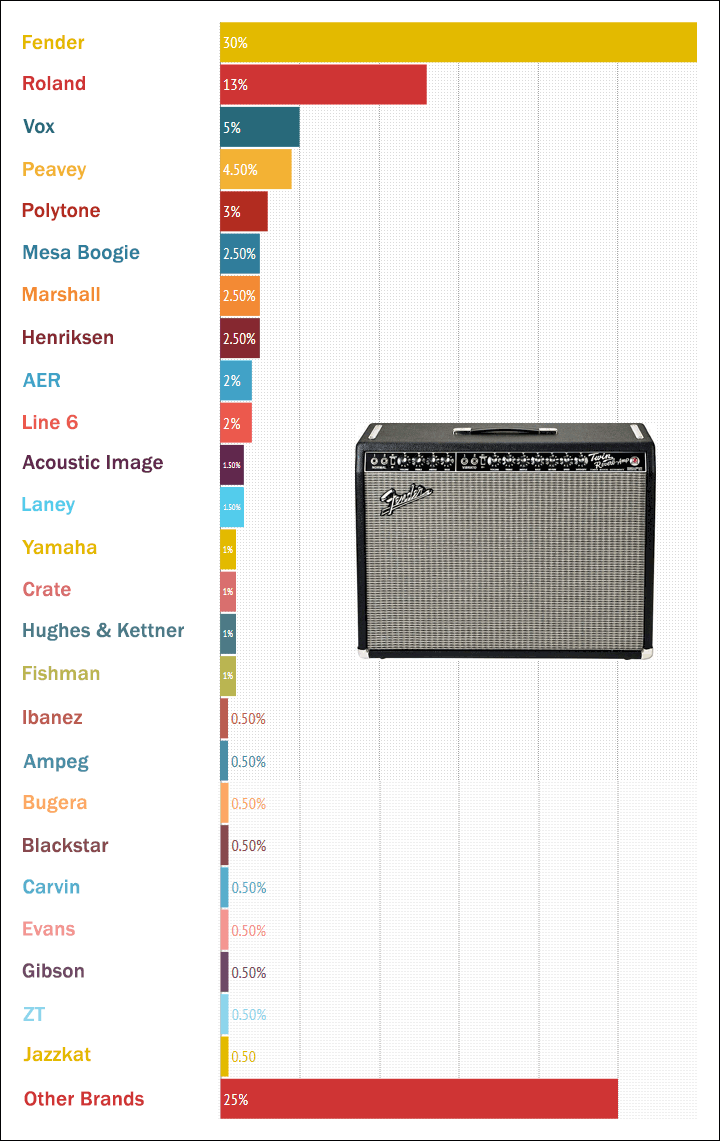 Now that you know what to look for in a guitar amp for Jazz, here are our top picks:
Reviews of the Best Guitar Amps for Jazz:
We agree with the JGO survey of more than 5000 guitarists and our overall best guitar amp for jazz is the Fender Blues Junior. It's a tube amp with 15 watts of power, making it perfect for small gigs and recording.
The EQ controls are simple and effective, and the reverb sounds great. This amp also has a headphone jack, so you can practice without disturbing others.
The Fender Blues Junior III is a 15-watt, 1×10" combo that delivers big tube tone in a small package.
The Blues Junior III features 3 12AX7 preamp tubes and 2 EL84 power tubes to give it the warm, round sound that made the original famous.
It has an upgraded Eminence speaker with a special "anti-feedback" circuit built into its output, making it less susceptible to feedback than other amps of this type. This amp also includes an effects loop for adding pedals or external processors like reverb or delay.
Pros:
It's affordable
Great for small gigs and recording
Simple EQ controls
Reverb sounds great
Headphone jack included
Cons:
May not be loud enough for some situations
Can get muddy at high volumes
Looking for the cleanest, most legendary guitar tone on the planet for Jazz and Blues? Look no further than the Fender Twin Reverb. This all-tube amplifier offers 85 watts of pure power, perfect for gigs and rehearsals.
Two 12" Jensen C-12K speakers offer incredible clarity and note separation, while the legendary Fender reverb provides spacious ambience and surf-worthy splash and crash.
The Fender '65 Twin Reverb Amp is a reissue of the original '65 Twin Reverb. The 85-watt (at 4 ohms) reissue '65 Twin Reverb features four 6L6 Groove Tubes output tubes, four 12AX7 preamp tubes, two 12AT7 preamp tubes, two 12″ 8-ohm Jensen C-12K speakers, dual channels (normal and vibrato), Fender reverb, vibrato, two-button reverb and vibrato on-off footswitch tilt back legs black textured vinyl covering and silver grille cloth
Pros:
Incredible clarity and note separation
Legendary Fender reverb
Spacious ambience
Great for gigs and rehearsals
Cons:
Pricey
May be too loud for some situations
Our third-best amp for jazz music is the Peavey Classic 30 by Peavey and is among the most used amp by jazz guitarists. Jazz guitarists like the consistency of tone and its overall great performance when playing combo, duo or small-band settings. This all-tube combo amp gives you 30 watts of power through a 12" speaker. It's perfect for small to medium gigs, and it has a great range of tones.
The Peavey Classic 30 amplifier is a genuine spring reverb with level control, pre- and post-gain controls on lead channel, external speaker capability, chrome-plated chassis, and classic tweed covering.
The gain structure of the lead channel has been modified to provide increased clean headroom and better distortion characteristics. The reverb level control has also been moved to the front panel for easy access.
Pros:
Great for small to medium gigs
Good range of tones
Spring reverb with level control
Pre- and post-gain controls on lead channel
External speaker capability
Cons:
Can be noisy at high volumes
May not be loud enough for some situations
FAQs
Q: What's the best guitar amp for jazz?
A: The best guitar amps for jazz are the Fender Blues Junior, the Fender Twin Reverb, and the Peavey Classic 30.
Q: What's the difference between a tube amp and a solid state amp?
A: Tube amps use vacuum tubes to amplify the signal, while solid-state amps use transistors. Tube amps tend to have a warmer, more natural sound, while solid state amps are typically more affordable and require less maintenance.
Q: How do I choose the best guitar amp for my jazz music?
A: For Jazz music, you'll want an amp with a clean sound, great tone, and plenty of power. The Fender Blues Junior, the Fender Twin Reverb, and the Peavey Classic 30 are all great choices for jazz music.
Q: What's the best way to get started with Jazz guitar?
A: Playing a jazz guitar is a bit different from playing other genres of music. To get started, you'll want to focus on learning chords and melodies. A great way to start is by picking out easy songs to play on guitar and then gradually adding in more challenging tunes as you get better. You can also check out our article on how to play jazz guitar for beginners.
Q: What are some of the best Jazz guitarists?
A: Some of the best Jazz guitarists include Charlie Christian, Django Reinhardt, Wes Montgomery, and George Benson.
Q: What are some of the best Jazz guitar songs?
A: Some of the best Jazz guitar songs include "So What" by Miles Davis, "In a Sentimental Mood" by Duke Ellington, and "All Blues" by Miles Davis.
Q: What are some of the best Jazz guitar albums?
A: Some of the best Jazz guitar albums include "Kind of Blue" by Miles Davis, "The Guitar Genius of Django Reinhardt" by Django Reinhardt, and "The George Benson Cookbook" by George Benson.
Hi there! I am Jack Musau, the founder of this Best Guitar Amp Review site. I am an avid musician with several years using both traditional and electric guitars and created this site to assist others looking to find the best guitar amplifiers in the market today. I also offer private coaching and training on how to use guitars and guitars amps of all kinds. You can reach out to me using my email, jack@bestguitarampreview.com.